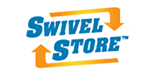 Go from a kitchen cabinet disaster to a kitchen organization master!

Are the spice bottles in your kitchen out of control? Do you end up searching in every cabinet and going through bottle after bottle just to find the one you want? What you need is Swivel Store™...the space saving organizer that conveniently keeps all your spices in less than four inches of space! Just slide and swivel, and the space you need is right at your fingertips!

Swivel Store™ is also great for organizing your pill bottles and medications, office and craft supplies, and garage and workshop clutter too!