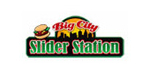 Big City Slider Station™ is the mini burger sensation that's sweeping the nation...

Now you can cook delicious sliders in your kitchen anytime. Just scoop, press and cook on any stove. The unique design cooks both sides at once so you never have to flip 'em... and in just minutes you'll have five mouth watering sliders. The Big City Slider Station™ features a double sided non-stick surface, made from high grade aluminum.

The recipe guide is loaded with mouthwatering creations like the blue cheese bomber and barbecue bacon cheddar burger. The Big City Slider also comes with the Quick Prep Slicer that is perfect for onions, pickles, mushrooms and more.