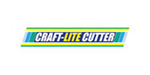 The world's first paper cutter with a built in back light!

Scissors are awkward and don't give you a crisp cut. Do the job right the first time with the Craft-Lite Cutter. It's the world's first paper cutter with a built-in backlight. The built-in backlight lights the paper from underneath so you can see exactly where you're cutting. There is even a fold-down guide to hold the paper in place and a swing out ruler for precise measurements. No more mistakes, no more ruined projects.

Just slide the rolling blade for unrestricted, accurate cutting. The retracting blade makes it safer than scissors, so it is ideal for school projects. Use the Craft-Lite Cutter for photos, scrap booking, crafts, greeting cards and art work. The decorative blades are great for adding borders to greeting cards and scrap book pages.