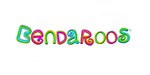 Bendaroos®, the amazing, flexible building Sticks! Shape'em, Wrap'em, Stick'em!

Forget messy crayons, markers and pens. Just bend any color and watch the fun begin. Build, draw, decorate, and transform ordinary objects into incredibly fun toys. Magical wax over super strong string makes Bendaroos® do most anything. They stick and stay and then lift away for non-stop play. No Glue! No Stains! No mess! Use again and again!

Bendaroos® stick to walls, windows and can decorate so many things. Make flexible snakes! A gorilla that shakes! Or an entire colony of Bendaroo® bugs.

There is so much you can do when you play with Bendaroos®.