News

As Seen on TV: The Pasta Pot Deluge
By Elizabeth Bernstein, Wall Street Journal | January 17, 2003
THE HOT DEBATE around the water cooler in Takisha Sexton's office: Pasta Pro or the Better Pasta Pot?

No, seriously. "We're obsessed," says Ms. Sexton, a 24-year-old New Yorker, who, like many people lately, has been barraged with advertising for the suddenly ubiquitous pots -- which promise to make cooking spaghetti spill proof and "a snap".

It isn't clear exactly who discovered the new cookers, which have lock-on lids and holes in the top to drain water, though a half-dozen companies are happy to take credit. (In addition to the "Pro" and "Better" versions, there's even a "Perfect" model.) But the pots, which first hit American airwaves in November and sell for about $20 each, are perhaps becoming the biggest as-seen-on-TV phenomenon since the George Foreman grill (now a more than $400 million annual business). So far, an estimated two million have been sold, though Clare Kogler of Jordan Whitney, which tracks TV Products, says the buzz may be short-lived. "They're more akin to the "Pancake Wizard", she says.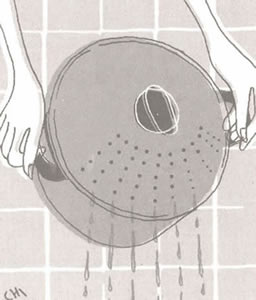 How could an ordinary pot with some holes in the lid become so popular? Blame it on the non-stop marketing, with one company alone, Massachusetts-based Merchant Media, spending $475,000 a week on ads; rival Telebrands, of New Jersey, which sells the Better Pot, says it's spending even more. Add to that the TV-shopper Web sites, cooking catalogs and mass emails, and it's probably not surprising that an increasing number of cooks around the country are convinced that a colander just isn't good enough anymore. (The pots soon will be on the shelves at stores like Wal-Mart and CVS, too.

Some late-night TV viewers, like Italian chef Pino Spinoso, owner of Cafe Tiramisu in San Francisco are converts. He liked the pot his wife gave him for his birthday so much he ordered six more for the cooks in his restaurant (fittingly, he has the Pro). "A lot of accidents happen when draining liquid from a pot, " he says.

But not everyone is so convinced. After Charlie Hatfield got one of the pasta pots for Christmas, he planned a dinner party with gourmet penne just to show it off. But when the New Jersey real-estate executive turned the pot over to drain the pasta, the lid accidentally unlocked and is hand-made pasta fell down the drain. His guests got "common boxed pasta" with their clam sauce instead. (And the pot is now a big red dog bowl, " he says.)

But there are those who believe the pots are a solution to a problem that doesn't exist, Ms. Sexton's husband among them. While she's been leaning heavily toward the Pasta Pro, he's nixed the idea -- "he says it's a waste of a good $20, " she says.